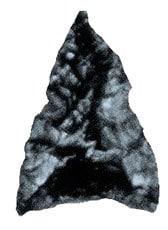 Opsianos or Opsidianos
Opsianos or Opsidianos is a great stone with a glassy texture, which is distinguished for its styling and its hardness. In the Eastern Mediterranean, obsianos (or obsidianos) is found on a few Aegean islands, such as Milos, Antiparos, Nisyros and Giali. The obsidianos of Milos was used by the inhabitants of the Aegean in the Stone Age and the Bronze Age to make tools and weapons (arrowheads).
The visitor of Milos can see such tools in the Museum of Mines of the island as well as in the Archaeological Museum of Milos.